Product Description
Flexible high-pressure hoses

Maximum working pressure up to 150 MPa 21 750 psi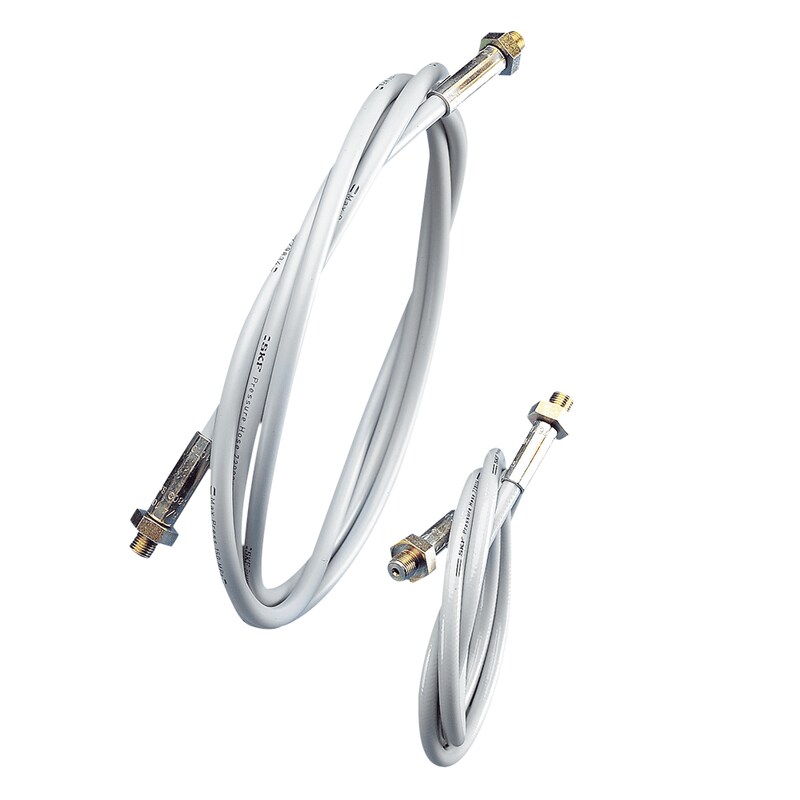 The SKF Flexible High-pressure Hoses are designed to be used together with the quick connect coupling 729831 A and nipple 729832 A on the range of SKF hydraulic pumps.
Safety note

All flexible hoses are subject to ageing and after a number of years the performance deteriorates.
All SKF flexible pressure hoses are hard marked with the year in which their life expires, e.g. LIFE EXPIRES 2017.
Technical data metric
Designation
729126
729834
Bore diameter
mm
4.0
5.0
Outside diameter
mm
10
11
Maximum working pressure
MPa
100
150
Minimum burst pressure
MPa
300
450
Minimum bending radius
mm
65
150
End fittings
G 1/4
G 1/4
Working temperature
°C
-30 to 80
-30 to 80
Length
mm
1 500
3 000
Lion Bearing Industrial Co.ltdight
kg
0.4
0.9
Technical data imperial
Designation
729126
729834
Bore diameter
in
0.16
0.20
Outside diameter
in
0.39
0.43
Maximum working pressure
psi
14 500
21 750
Minimum burst pressure
psi
43 500
65 250
Minimum bending radius
in
2.6
5.9
End fittings
G 1/4
G 1/4
Working temperature
°F
-22 to 176
-22 to 176
Length
in
59
118
Lion Bearing Industrial Co.ltdight
lb
0.9
2.0